Dumper Truck
A dump truck, known also as a dumper truck or tipper truck, is used for taking dumps (such as sand, gravel, or demolition waste) of construction as well as coal. A typical dump truck is equipped with an open-box bed, which is hinged at the rear and equipped with hydraulic rams to lift the front, allowing the material in the bed to be deposited ("dumped") on the ground behind the truck at the site of delivery.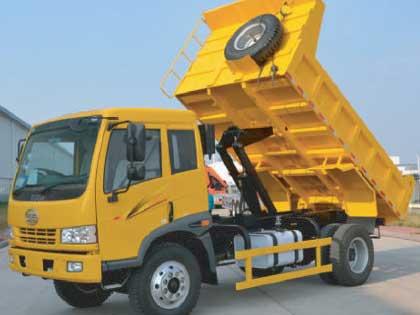 Features
There is C channel support frame of Mild Steel varying web and flange sizes and thickness corresponding the wight of pay load and also adding some additional strength for the factor of safety.
A semi end dump is a tractor-trailer combination wherein the trailer itself contains the hydraulic hoist. In the US a typical semi end dump has a 3-axle tractor pulling a 2-axle trailer with dual tires, in the EU trailers often have 3 axles and single tires.
A truck and pup are very similar to a transfer dump. It consists of a standard dump truck pulling a dump trailer. The pup trailer, unlike the transfer, has its own hydraulic ram and is capable of self-unloading.